I've heard this a few times lately from people (socially distanced of course, I'm sure it would have been down the pub a year ago). "Have you seen Tesla?" they say, Apple, even bitcoin at $1m has also been mentioned. There's no downside they say, central banks will come to the rescue, good news is good news and bad news is good news because there'll always be more liquidity to prop up the market. When you are getting tips based on the view that 'markets have no downside', it's time to sell.
What happens when there's too much liquidity?
Market performance since the application of global liquidity by the world's central banks back in March 2020 has been nothing short of stunning. Tesla is up more than 8x! It is clear though, that this liquidity is causing problems for markets and by extension central bankers. What do central bankers do if the vaccine is not the panacea that everyone is hoping for? If a particular variant has resistance to it? Do they stand by with even more liquidity? This is when it gets tricky for central bankers because markets are already bloated. Markets have clearly ridden the liquidity to euphoric levels: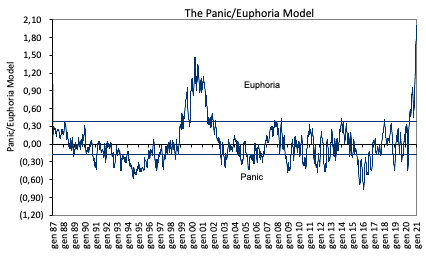 Source: Pinnacle Data, Haver Analytics and Citi Research – US Equity Strategy 02.01.1987 to 29.01.2021
Chairman Powell: over to you Mr Vaccine
The last Fed meeting was instructive in this regard. Whilst central bankers are always at pains to stress they have "ammo" left in the locker, and no doubt they do, because there is theoretically no limit to the size of central bank balance sheets, they feel they have done their bit and in the context of liquidity provision to global markets we would tend to agree. Arguably more liquidity at this point would risk financial stability issues. That said, at the last FOMC, Jay Powell was keen to stress the most important factors for the US economy from here on in were vaccine rollout/effectiveness and fiscal stimulus, not increasing monetary accommodation.
Central banks temporarily powerless
With risk assets still riding relatively high, then central banks are unlikely to increase liquidity further from current levels. It is also likely they see a correction as healthy. We have been worried about a correction in risk assets since the start of the year, with the small rise in US rates being the trigger. As US rates drift upwards this makes US Treasuries an ever attractive place to park cash, strengthening the USD and gradually sucking cash from more risky assets. Given it is the change in the pace of the size of central bank balance sheets or the change in the level of interest rates which is the important factor for markets, not the on-going size of purchases or the on-going rate, it would take an increase in the rate of central bank purchases to provide additional stimulus from here on in. The current rate of purchases is therefore already priced in. On this basis, don't bet on central banks coming to the rescue any time soon…