Personally, I don't think the Vengaboys would have had as much success in the late 90s – early 2000's if they embraced going to Scarborough instead of the party island of Ibiza, but it looks like we are going to be forced to do so this year. Staycation was a term unbeknownst to the majority of people pre-pandemic but has since become a staple of the English lexicon. As shown in the below graph google searches of the word increased 10 fold in 2020 from previous all-time highs and look set to increase further this year.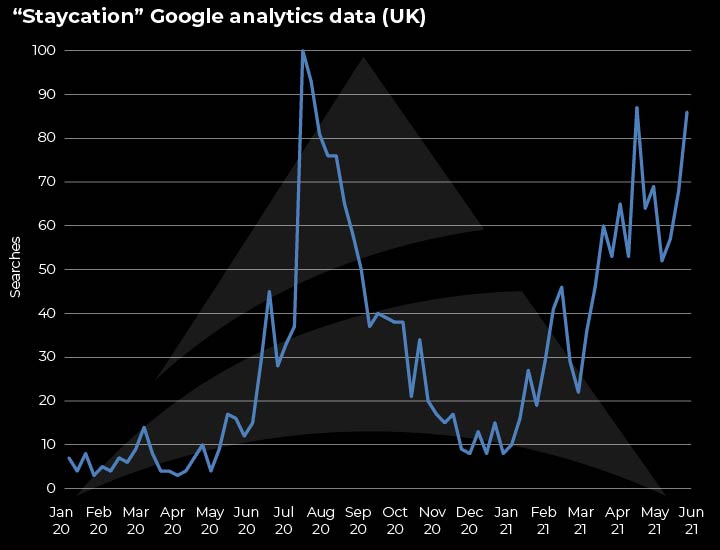 Source Google 05.01.2020 – 06.06.21
With everybody's hopes of a summer abroad hinging on "Green Lists", travel restrictions and vaccination roll outs, more and more people look set to enjoy the so-called Great British Summer. The apprehension on travelling abroad is still felt somewhat and is expected by a number of airlines, with RyanAir only expecting 60%-70% capacity over this summer and interest in Skyscanner still only at around half the level it was back in Summer 2020 when the economy began to open up. This is in pretty stark contrast to what has been happening on a domestic level where Cornwall has become the most popular UK summer destination, a title previously held by London due to international demand. "Rural nights booked in the UK used to be a quarter of our bookings, they're now half" according to AirBnB Chief executive Brian Chesky. On a worldwide basis, domestic bookings have increased from 50% in January 2020 to 80% in 2021, according to Airbnb's newly released report, Travel & Living, May 2021 which is pointing to the UK not being alone in this trend.
Hotels and destinations with a heavy UK exposure will be looking to capitalise as much as possible on the increasing level of demand even through potential capacity constraints by slightly boosting their prices and maximising their Revenue Per Available Rooms (RevPAR). Back in a pre-Covid world where UK tourists could travel freely, the UK posted a tourism trade deficit of £33.9 Billion. With more people than ever staying home it would be logical for this deficit to be eaten into through expenditure on tourism related goods and services, particularly in the pubs sector with the Great British public taking full advantage of bars and restaurants fully reopening.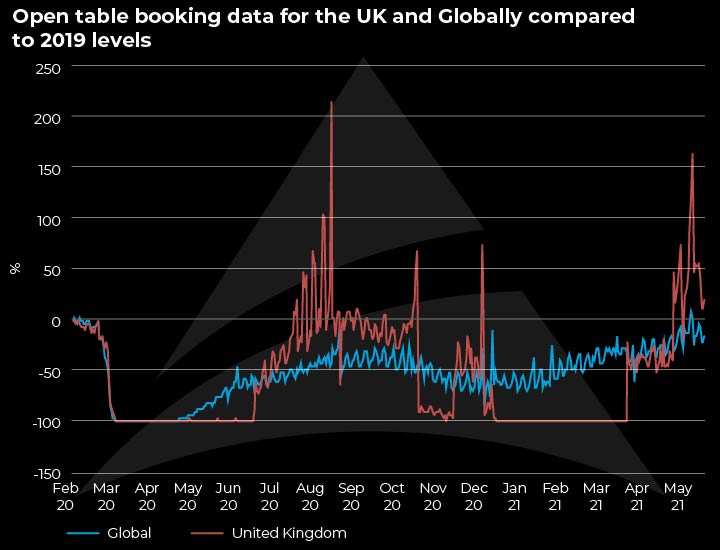 Source: https://www.opentable.com/state-of-industry 18.02.20 – 09.06.21
As shown in the graph above, post the relatively successful local vaccine roll-out, the UK has started to take full advantage of an earlier opening and – as a consequence – is starting to pull ahead of the rest of the world when comparing the level of restaurant bookings to 2019 levels similar to last year. With an above average level of expenditure expected in the UK this summer this is a trend we should expect to prevail over the summer months. 
Lockdown to lock-in!
Lots of market participants talk about the "opening-up" of trade but on the above evidence it's clearly much more nuanced than that. We have long preferred domestic opening-up exposure versus international given the complexity of international travel at present. But it's not only the travel industry in the UK that will benefit from being "locked in" – the benefits of having so many more people in the country during the summer are widespread. Whilst domestic tourism is a direct beneficiary, pubs and restaurants will also benefit as well. In addition the construction sector is booming as a result of the knock-on effect of firstly spending more time at home rather than on hols – and maybe making space for that hot-tub! – and also having the funds to pay for it having saved on  foreign holidays for the last two years. In short, UK Plc is likely to do very well out of the summer of '21. We are therefore happy to be overweight the UK in names such as Centre Parcs and David Lloyd, as well as smaller banks that lend to UK SME's, such as Close Brothers and Shawbrook.